wireless ear buddies
Four years ago I determined the Sony MDREX15LP were the best cheap earbuds. Since then I've gone through many pairs. I continued to use one pair after another (they don't really wear out, usually I lose a pair somehow) with a lightning to headphone adapter, but that's starting to fray after some hard living.
I'm stubborn so I refused to buy another adapter. Also refuse to buy AirPods, which is very obviously what Apple would like.

1000XM3
I bought the Sony WF-1000XM3 wireless earbuds instead. Not to be confused with the WH-1000XM3 over ear headphones. The primary selling points were the silicon caps, which I generally find comfortable, and the promise of useful active noise cancellation. That was about three weeks ago.
In general, they work pretty well. The noise cancelling picks up a lot of wind noise unless it's in special wind reduction mode. The sound is decent. Comfortable fit, although a bit bulky. The charging case in particular is a bit unwieldy unless you're cools enough to wear cargo shorts.
I never got the claimed five hours battery life. More like three. Which can be problematic on flights. They charge kinda quickly, so you can pocket them and charge while taking a bathroom break to extend that a bit, but it's not exactly seamless, and you're still going to bottom out before landing.
The ugly side is the control app is not great. They can be used without the app, but with less control over some settings like wind reduction mode. Also, I'm not sure what the app is up to, but it got real cranky when I disabled cellular data for it.
I had a few other connectivity issues. Generally once paired it was pretty reliable about reconnecting as soon as I removed them from the case and put them on, but sound would skip while walking around with my phone in my pocket. Sometimes. It was strange in that some days it would be flawless, and other days it would skip every minute. Channel hopping something? No idea.
Not water proof at all. I wore them out in a light mist, not even rain, but the touch sensor got wet and so phantom touches turned noise cancellation on and off every ten seconds until I got home, even after wiping off. They're like indoor only wireless earbuds.

Airpods Pro
And then Apple announced the AirPods Pro. Noise cancelling and silicon tips. Daring Fireball said they're pretty good (of course he did). So I bought them too.
They're very similar, but also different in every way. Mostly better I think. At least for an iPhone user.
There's no special app required, just updated iOS. I guess that's less good for Android, but it's fine with me. The noise cancelling controls are simplified to on, off, transparent, as opposed to 14 levels of ambient noise. The controls then fit on the phone volume slider. Very Apple vs Sony in terms of customization and defaults. The three Apple settings seem to be tuned about right. I didn't notice any trouble with amplifying wind noise.
After a bit more testing, the Apple noise cancelling seems a bit less powerful for steady droning noise like jet engines, which I attribute to slightly more leakage. However, it seems much more intelligent at filtering oscillating noises from more mundane sources like jackhammers and traffic.
The carrying case is much smaller. One might even imagine carrying it around. Plus it supports wireless charging. (Also comes with a usb-c to lightning unicorn cable.)
The fit is pretty comfortable. With less gadget hanging off my head. Alas, they only come in boring white, not awesome black. At least this makes it easier to blend in with the mindless sheep so the powers that be won't notice me.
For comparison: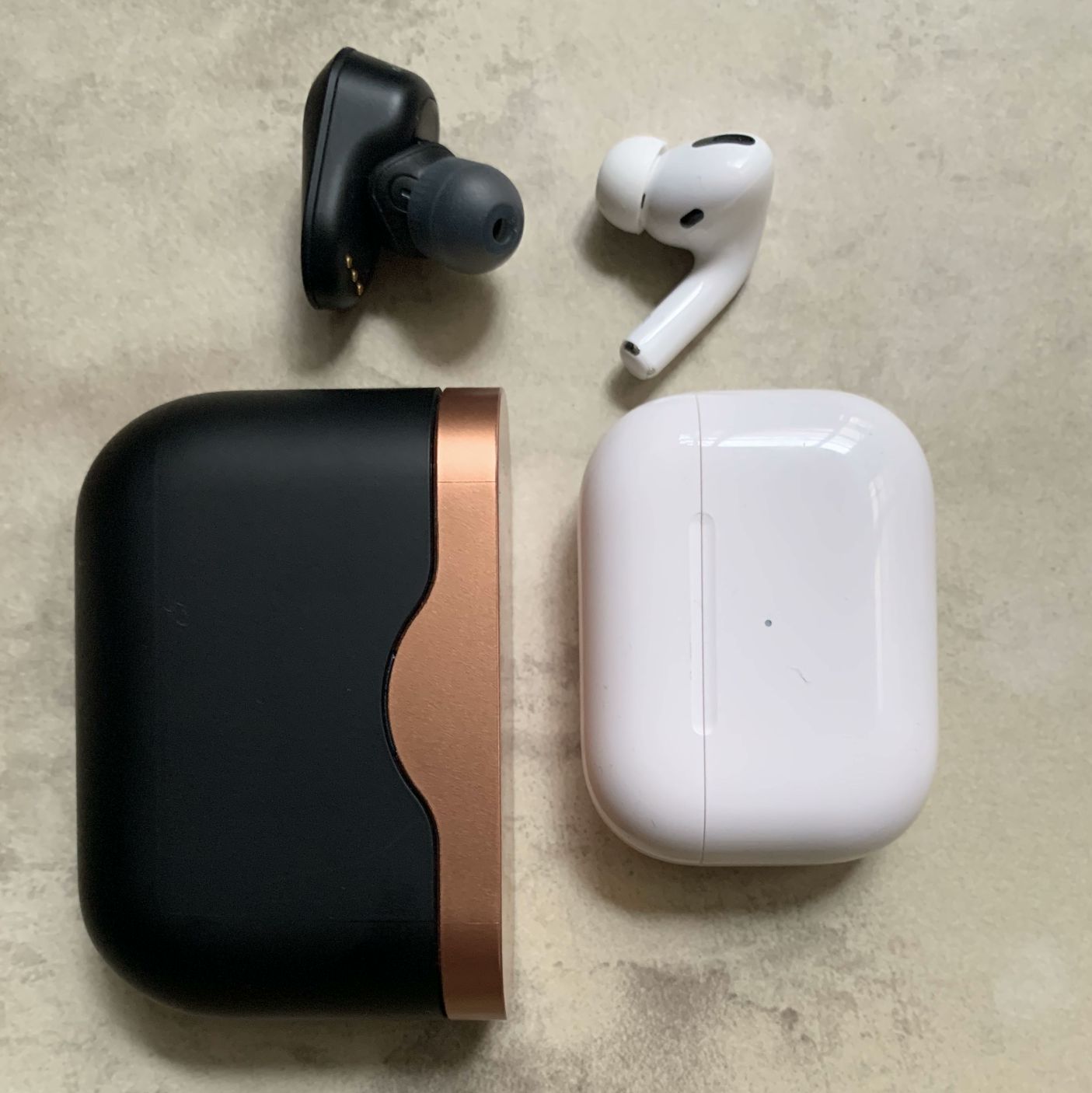 The in ear portion is similar in size, but the Sony has a lot more attached to it, while Apple just has tail. The photo lacks depth, but the Sony case is noticeably thicker as well. The size of the case is obviously a function of the earbud size, but also shape and alignment. The way Sony arranges things seems rather suboptimal. I actually prefer the Sony case (so snazzy!), and the earbuds do snap into it (magnetically) with reassuring force, but it's simply too large to be convenient. And I wouldn't really consider wearing earbuds like these out of the house without a case to place them.

conclusion
In general, since I have an android tablet (that also requires a headphone adapter I always forget to pack) and it's annoying to repair wireless headphones, I think I'll end up using both. AirPods with my phone and Sony whatevers with the tablet. The two combined are smaller than my old Bose headphones. Especially given the short battery lives, they're not well suited to long flights.
I've already become quite accustomed to not getting tangled in cords. It's one of those hassles which isn't recognized until it's gone. I can put my phone down, then stand up without stuff going flying, which always just seemed like a thing which happened, but now it doesn't, and I'm happy.